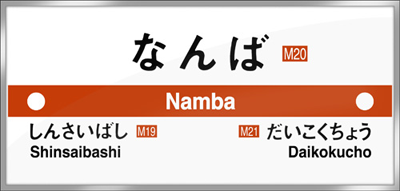 Namba subway station sign in Osaka. In its current form.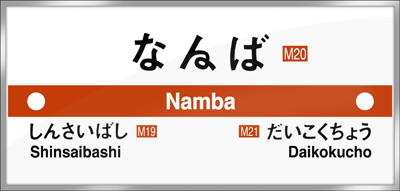 The same sign with the M character. The N in Shinsaibashi does not change.

On the left we have the station sign for Namba located on the Midosuji line in Osaka. It is ideal for demonstrating a case where N turns into M. From a typographical point this is a perfect example too as it is often written in Hiragana instead of Kanji. People often think it is too difficult to write using Kanji!

As the sign shows the alfabetic transliteration has an M in it. Also the Japanese pronunciation has a strong M in it. However the hiragana version still has an N.

My design is derived from the hiragana N. It felt natural to use it as a base. Rather than just putting dakuten dots (゛) on it like in "Ka" か → "Ga" が I still wanted to give it a slightly different shape.

Besides working well with native Japanese words, a katakana counterpart would be useful when writing non-japanese names and borrowed words. For example in the case of "chewing gum" - which in Japanese becomes "gamu" (ガム) - pronunciation "gam" would still fit inside the range of natural Japanese phonetics.